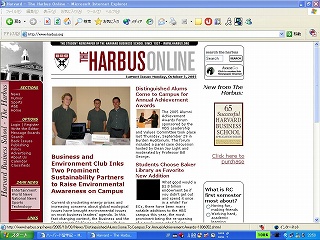 米国ではアジア系移民の人口が急増しているらしく、それは街中でもHBSのキャンパス上でも伺える。そして、白人男性とアジア女性のカップルというのも、多く見かける。なかには、一度アジア女性と付き合ってしまうと、その魅力に取り付かれ、以後はasianしか付き合えなくなってしまう人もいるらしい。これを、Yellow Fever (日本語では「アジ専」とでも言うのか)という。
学内にはHarbusという学生新聞があるのだが、このたびClass of 2004のReinaさんからメイルをいただいた:
  たまにHarbusオンラインを読んでいるのですが、
  どうかね、あんまり気の聞いたシリーズ物が最近少ないね。
  私が在学中は「That Guy」という匿名著者の風刺コラムや、
  へへへ、私が気が向いたときに書いていた「Sex and the Campus」がありました。
Reinaさんが書いた"Sex and the Campus"、見てみると、Yellow Feverを取り扱った面白い記事が… かなり面白いので、ここにご本人の許可を得て転載します:
Sex and the Campus
Case 6: Attack of Yellow Fever
By Reina Mizuno (OJ), Contributing Writer
Published: Monday, January 26, 2004
Have you heard of terms like Yellow Fever or Rice King? These terms are referring to people who have an "Asian fetish," (i.e. a strong preference in dating Asian people over other races). It might be due to the fact that I am an Asian myself, but when it comes to ethnic preferences, I have found that the term "Asian fetish" is the most distinct and often the most talked about compared to "White fetish" or "Black fetish" or whatever.
What is Asian fetish exactly? What is it about Asian fetish that keeps people talking?
As an Asian person, I can immediately sense when someone has an Asian fetish. You spot someone staring at you from afar and next moment coming to talk to you at a crowded party. You see a guy walking down the street, hand-in-hand with another Asian girl, and he still checks you out as you walk by him. Undergraduate majors of any East Asian language or East Asian Studies or post-college work as an English teacher in an Asian country are easy give-aways. Back in the day (circa late 90's), these Asian Studies types were the only people with Asian fetish, but now, they seem to be everywhere, and their Asian fetish is not restricted to any one particular Asian connection!
One classmate, a self-acclaimed Rice King, confessed to me that his life and perspective was forever changed after he dated an attractive Korean-American girl for a couple of years. Apparently, it was the contrast between her petite figure and strong libido that turned him on.
Another classmate, a European, commented that he finds Asian women very sexy and feminine. So perhaps it's the exotic look. Perhaps it's the femininity. But I can't help but think that some of it is men's chauvinistic fantasy about petite, reserved submissive women.
Is this about American men, tired of Anglo-Saxon feminists, seeking more traditional Asian women who would be dependent on them and make them feel good about themselves? Others would argue that the fetish has developed due to the increased exposure of beautiful Asian celebrities (e.g. Lucy Liu from Charlie's Angels).
Regardless of the rationale behind it, as an Asian woman myself, I have a mixed feeling about this phenomenon. While I'm glad that Asian women are getting the attention that they deserve, I feel uncomfortable about men who are attracted to a woman just because she is Asian.
On the other hand, I also feel that Asian fetish has positive societal effects - as more people engage in interracial relationships, perhaps the color of your partner won't matter so much. So if you consider Asian fetish simply an evolutionary stage in interracial dating, we should probably celebrate the fact that people are becoming more open-minded.
**********
こちらは18歳未満禁のコンテンツですが…
Love Glossary
By Reina Mizuno (NJ)
Published: Monday, February 10, 2003
There are so many slang words related to dating in the US. I have conducted some research and put together a useful glossary. (definitions may vary depending on individual's interpretation)
Relationship statuses
* Friends with privileges
: these two have a no attachments, purely sexual relationship
* Friends with the hope of privileges
: situation where one (usually the guy) hangs around hoping for a moment of weakness from his/her friend, who probably hangs out with this person for the attention they get from them
* Going out
: two people having a casual relationship; not necessarily exclusive
* Dating
: two people going on multiple dates, usually refers to an exclusive relationship but still casual and non-committal
* Seeing
: two people seriously having an exclusive relationship
Activities
* Hook-up
: can be from kissing to having sex; usually occurs during parties when both parties are severely intoxicated
* The shutdown
: the hookup attempt with a shut down, followed by weirdness.
* One night stand
: two strangers having sex for the first and only time