学校のまぶだちのRastoの日本旅行記を無断転載:
Executive Summary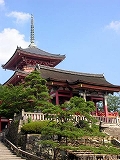 There is hardly any other country like Japan in the world. This was the key reason why we decided to come despite the horrendous prices. Thanks to our great hosts - my two classmates Nori with his wife Aya and Yusuke, our 8-day trip Tokyo-Hakone-Shizuoka-Kyoto-Fuji had a different dimension. In my eyes, this country of hierarchies has two faces blending together: traditional and ultra-modern one. We found both of them fascinating.
Spot-on Clues
Surprising upgrade to business class on our flight from Hong Kong to Tokyo was truly symbolic. Japan is really a business-class country. They say that if you want to see how the future looks like, come to Japan. I believe it is true – Tokyo appeared to me more high-tech and shinier even than New York. Unlike the rest of Asia, everything is extremely efficient, minimizes costly people hours and works great. Shinkansen - bullet train reaching 300 km/h (190mph) and operating 30 years without a fatality is only one example. It proved to be even faster than my camera autofocus so after 15th attempt I just gave up. Pricewise, it is also business class. I now understand why Japan is in deflation, it simply cannot get any higher. One week in Japan buys you one year in Myanmar.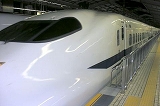 I did not have clue that having my credit card swallowed by an ATM at Tokyo airport is going to be symbolic too. If you are hosted by your Japanese friends, you will have a great difficulty to use your credit card. After half an hour of wresting over who pays and threatening that they will get offended, you simply capitulate. They call it "Japanese style"…
Unmatched Politeness
Japanese people amaze you with their politeness which is difficult to match. You enter a store to ask for a direction without buying anything, they will thank you. When they thank you, they bow. If you try to be polite and bow back, they will bow again and twice as much. Importantly, unlike some other nations you feel this politeness is 100% genuine.
Japanese Cuisine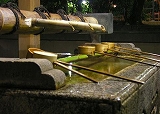 Already in Boston I noticed Japanese food is not bad at all, but in Japan I realized how fantastic it is. On the first night, Aya's mother hosted us with tempora, the best meal of our trip so far. It reminds Chinese hot pot a bit, but instead of hot water, you dip all sorts of yummy stuff in hot oil. Only in Japan you eat beans or sticky rice in a desert without thinking that the cook got drunk. They are not only delicious but also look great. Green tea in Japanese style looks like a spinach sauce. It is so thick and strong I was afraid that I will not be able to close my eyes for at least two days straight. I guess they came up with a complicated tea ceremony full of twist and turns so that you do not drink too much of it in a day.
Toilet Cockpit
Operating Japanese toilet requires manual because at the more sophisticated ones you feel like in a cockpit. There are so many buttons you are grateful that at least flushing is intuitive. You can set everything from intensity of seat heating, water cleaning, fan to birds singing sounds.
Climbing Fuji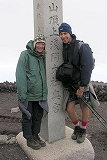 Climbing Fuji is definitely not heroic. Thousands of hikers including retired Japanese climb this 3776m (12,285ft) volcano every year. I have never seen such an infrastructure on a mountain. You feel a bit like on a subway. Most of the hikers start at the fifths station and walk up to 10th station on the summit. After the 8th station you can spot signs reading "Do not give up". On top of the mountain, you face a dilemma which vending machine to buy Coke from. But beware, this mountain can be dangerous, even hazardous! When we took our summit photo, we almost got rolled over by a yellow bulldozer which was smoothing the way down. Still, a combination of overnight bus from Kyoto, extremely windy weather, and almost half the normal ascent time limit in order to catch another bus to Tokyo made it quite a challenge for us.